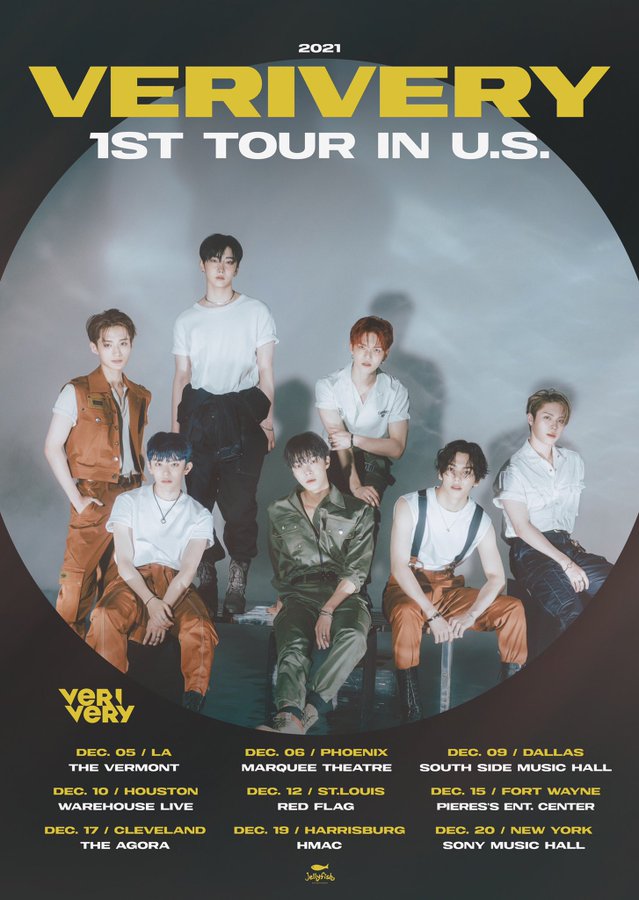 On October 6 Jellyfish Entertainment announced that boy group VERIVERY will go on their first tour in the U.S. in December 2021. The tour will kick off on December 5 and will be held in nine cities following each location's COVID-19 regulations.
Tour Information
Title of the Tour: 2021 VERIVERY 1st TOUR IN U.S.
Tour dates, cities, and location:
Date | City | Venue | Link
Ticket Sales Open: October 7 at 11PM (KST) / 7AM (PST) / 10AM (EST)
* Jellyfish Entertainment's statement about the tour:
We are preparing this tour by thoroughly complying with the COVID-19 guidelines with the highest priority on the health and safety of the artists, including all domestic and foreign staffs and officials who are preparing together. During the tour, COVID-19 Compliance Officer (COO) will accompany us, and we will strictly follow the COVID-19 guidelines of each city. .

Artists and staffs are working hard to give great show to VERRER in the midst of a difficult situation, so please send us lots of interest and love, and we will do our best to ensure a safe meeting by considering the health of artists and fans as out top priority.

We would like to appologize for not being able to hold more tours in more places, including Korea due to COVID-19, even though it is the first time ever for VERIVERY to perform a tour performance in front of VERRER face to face. We will do our best to meet more and more VERRER in accordance with the quaratine guidelines in the future.

Thank you.