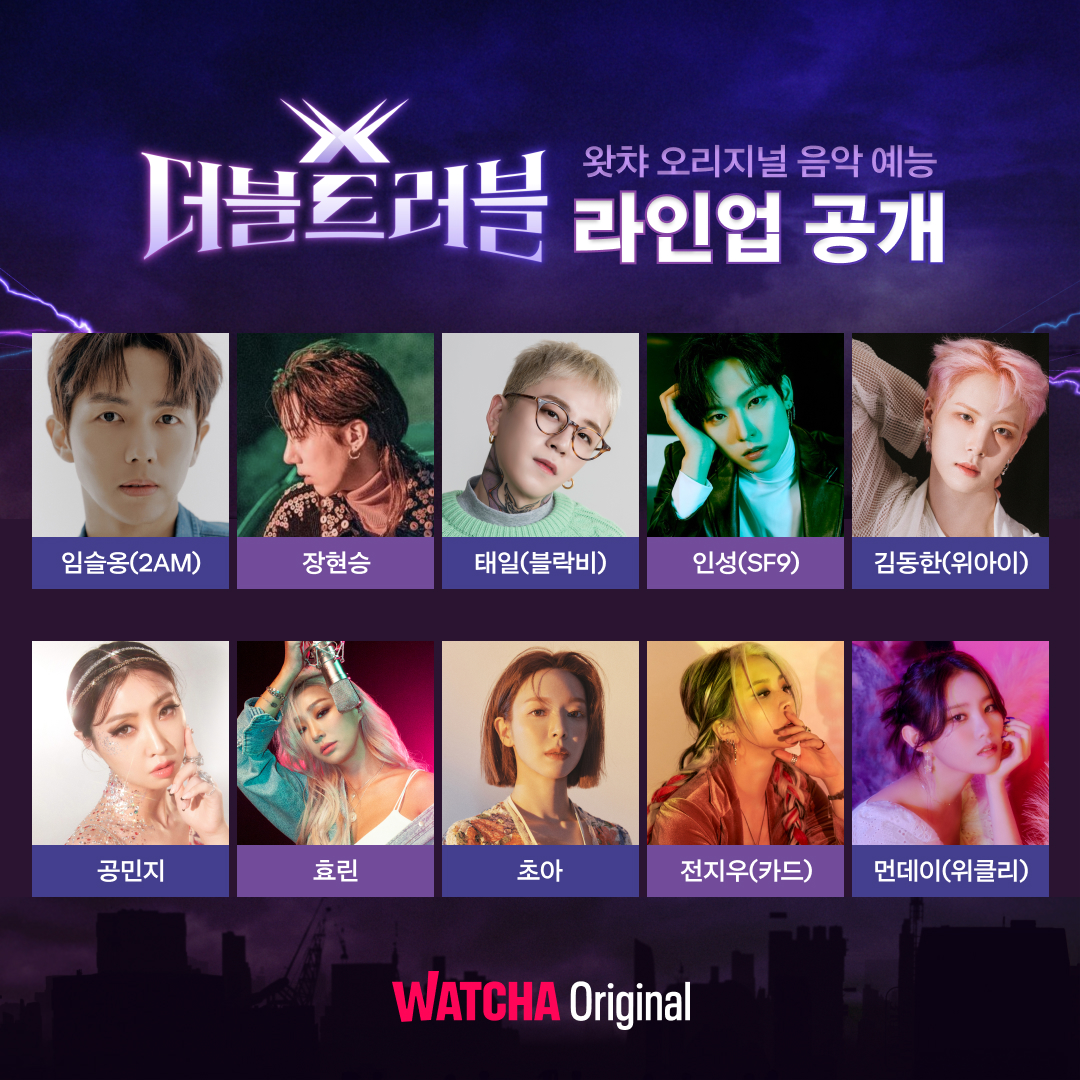 Watcha has revealed the lineup of their new music variety show, Double Trouble. The star-studded cast of 10 idols includes 2AM's Seulong, Minzy, Choa, Block B's Taeil, Hyolyn, KARD's Jiwoo, Kim Dong Han, SF9's Inseong, Weeekly's Monday, and Jang Hyun Seung -- which will be his first variety show appearance in four years. The premise of the show is that the Kpop idols will pair up into teams of two to create and show never seen before duet stages!
The 5 Male Idol Participants
Seulong recently returned to the music scene with his vocal group 2AM after a seven-year absence. The main vocalist of Block B, Taeil, finished his military service in January of this year. Kim Dong Han has demonstrated his talent as a member of WEi, as well as a soloist. Inseong has been active in musicals and will release his 10th mini album with his group SF9 on November 22. Jang Hyun Seung released his single "I Just Can't Stop Loving You" back in December 2020 and parted ways from Cube Entertainment back in August.
The 5 Female Idol Participants
Minzy has been active as a singer for over twelve years and is currently releasing music as a soloist. Hyolyn is active as a soloist and released "Summer of Summer" with fellow Sistar member Dasom in August. Choa returned to the entertainment industry after taking a long break after leaving AOA. Jiwoo shows strong charisma as an active member of KARD. Weeekly's Monday is known to be a rookie with a powerful voice.
Double Trouble will begin airing on WATCHA on December 24.
Keep up with KpopWise for news about your favorite Kpop idols and artists!