A Message to KpopWise readers from SAAY:



From songwriting to choreographing and performance editing, SAAY is involved in every aspect of her music career. With Future R&B and Pop R&B genres in the music she creates, this encapsulates the life experiences in her 20s through her full-length album "S:INEMA". Consisting of 21 songs, SAAY takes the album in the subjective experience of music such as sadness and happiness. The title track of the album, 'Talk 2 Me Nice' intensifies the emotions in a black and white music video.
In the 2nd full-length album S:INEMA, the overall theme is life is a movie. If your life is a movie, how would you describe yourself as the 'main character'? In addition, who would you pick to narrate your life?
SAAY: The main character of my life is myself. Because my life is mine without having to be swayed by others, of course, the main character in my life is myself. And I chose myself as the main character for my life through this second full-length album S:INEMA, rather than claiming to be another character to describe myself.
The music video of your title track 'Talk 2 Me Nice', there is inspiration by old mobster movies. Where and how did this idea come into play?
SAAY: My 20s were happy but unhappy. I had a hunch from the time I wrote this song that I had to express my two sides to show the real two sides of the title track in this album, which represents my 20s. So, to make it easier for listeners to understand the real reason for this song, I projected those two opposite sides of the relationship between the opposite sex, the image of a man angry at everything in a tough suit, and the image of a woman happy at everything. I wanted all these reasons to be clear, and at the same time, my 20s made a music video in black and white, minus all shades, to express that it looked like a vintage black and white film with an open ending.
What is your perfect full-course meal? (Breakfast, lunch, and dinner)
SAAY: Breakfast is the most important thing. I always eat breakfast well because I think the first meal to last the day is the most important for a day when the schedule starts early in the morning. I usually enjoy anything with coffee.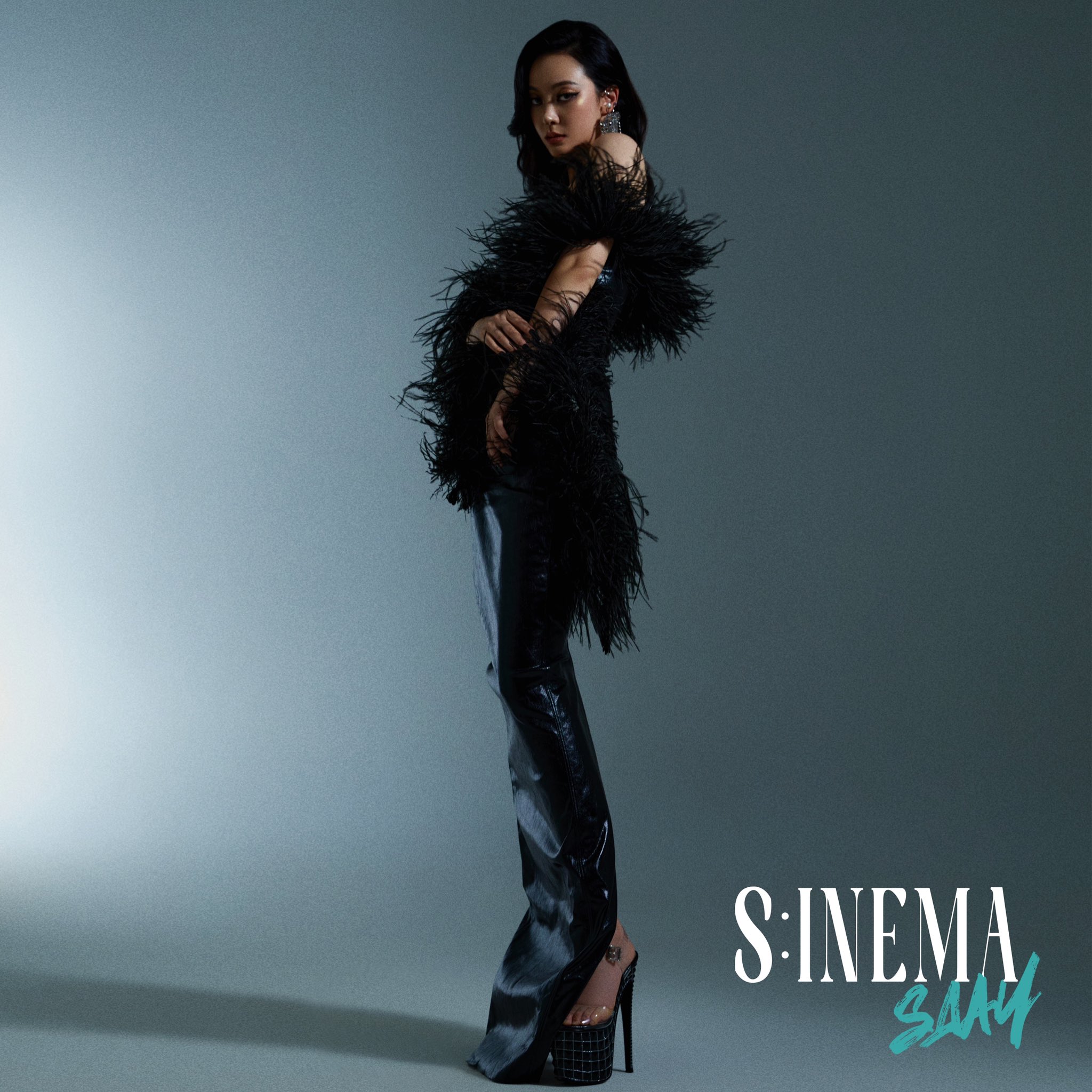 How does music shape your self-identity?
SAAY: In the past, I had a hard time balancing music with my identity. However, because time has passed and I have been making and trying music steadily for that time, now myself is music and my music is my identity. They are like twins and have strong faith and the power to support each other at any moment.
What is your favorite verse from the S:INEMA album?
SAAY: This is one of the most difficult questions for me because every phrase is based on my real experience. However, I want to pick the title of the intro, "everything comes to go," which is the beginning of the album. It was because it was a sentence of a life cycle that I felt most clearly after passing through my 20s, and it was an experience. This album could be born because the experience of this sentence existed in my 20s.
Is creating music for original soundtrack series similar or different from creating music for yourself?
SAAY: I think it's similar. If my standards are clear and my musical genre and identity are clear, it's not a different part.
Aespa, TWICE, and Baekhyun are the few artists you've written/composed/produced for.Who is the next set of the artist(s) that you would love to work with?
SAAY: Anyone who has a passion for music like them, and if they have skills, they work together as producers, and they're ready to give them music. However, as I grew up, I was inspired by BoA's performance and her performance, so I really want to work with her as an artist and producer someday.
It was recently revealed that SAAY has written and produced track 2, 'ZIP' on BoA's upcoming 3rd Mini Album, "Forgive Me."
The 2022 year is almost over. Were you able to complete your goals for this year?
SAAY: Releasing my second full-length album "S:INEMA" was my biggest goal this year, and I achieved it. Also, I am preparing for my first solo concert at the end of December, so I am having the happiest and most successful end of the year.
As a dancer, you must stay fit and strong. To stay fit and strong, can you tell us your typical workout routine?
SAAY: I enjoy swimming, horseback riding, golf, pilates, and yoga, and I like to keep my body condition awake all the time. Make sure you eat breakfast so that your body can start the day properly and then take nutritional supplements and protein. And I'm constantly making choreography, dancing, and maintaining my nervousness so that my body doesn't get stretched.
What is something you wish your fans knew more about you?
SAAY: It's the process of working on this album. Most of my fans are in their 20s and 30s, and among them, this album is a musical compilation of my experiences in my 20s, so I wanted to help those in their 20s who are experiencing difficult situations or in a difficult emotional state. I wanted to sympathize with you that I was like that when I experienced it. Whenever I release an album, I like to write down the album description and song description in detail on the credit, so I think I can understand it a little more by looking at this. In the future, I'm going to slowly reveal the behind-the-scenes stories about my second full-length album on my Instagram or Twitter account. If you pay as much attention to these parts as my album, I think it will help you understand this album more.
You own a clothing brand called SLAAY. Who is the ideal customer that is drawn to buying products from your clothing brand?
SAAY: People who are looking for items that are a scarcity in the world, rather than hundreds or thousands of similar design items that seem to be printed in factories, usually buy them. Everything is customized and sold, so I think many fashion lovers who like rare and valuable items find it.
Have your motivations changed since you debuted as a solo artist in 2017?
SAAY: My motivation is always there as a beginner. Since it's a job where I must meet various situations and people, my motivation and initial intention will remain firmly in me so that I won't be swayed easily and forever.
CONNECT WITH SAAY ON SOCIALS
TikTok | Twitter | Instagram | YouTube
Listen to S:INEMA
Special Thanks to SAAY and Universal Korea for the interview.